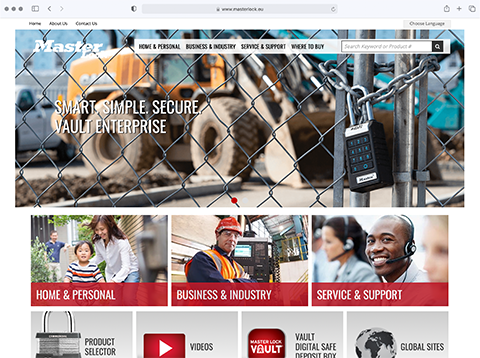 Master Lock Europe
Master Lock® is recognized around the world as the solid, enduring name in padlocks and security products. Generations of people have grown up with Master Lock® products at home, school and work.
Master Lock® Europe, listening carefully to its markets, develops specific ranges of products designed to meet the needs of every country.
Our customers expect our locks to be reliable, durable, and functional. Above all, they must be secure. They never said they had to be boring!
Today, Master Lock® is the #1 padlock brand in Europe.
Our product lineup includes:
Luggage and Light-Duty Padlocks
General Security Padlocks for multi-purpose use such as sheds, lockers and gates
High Security Padlocks designed to provide maximum security for store-front gates, sheds and garages.
Weathertough Padlocks to withstand extreme climatic conditions. They offer the best weather resistance.
Cables and Chains to secure garden tools, gates & sheds
Bike, Motorcycle and Scooter Locks
Bungee Cords and Tie-Downs to provide cargo security for bikes, car roofs and trailers
Automotive and Trailer locks
Key Safes to store keys for realtors, tradesmen and children
Visit MasterLock.eu